Company Introduction
Our company is one of the earliest companies which focus in the membrane structure designing and engineering. Certificated for membrane structure design and construction, metal structure design and construction, safety production license. Our business scope covering the whole membrane structure designing, construction, manufacturing ,installing and maintenance, purchasing and selling membrane material. In the past several years, we successfully completed a series of great design and construction such as : around fifty thousand square meters' membrane structure for a famous enterprise "Country Garden", intersperse among over 30 housing estates ;sixty thousand square meters for "Overseas Chinese Town",fifty thousand square meters for "Shenzhenhuaqiang", Huadu Stadium for Asia Athletic Games, Sports center of Fuquan City, Sports center of Wuzhou, Bicycle competition terrain of World University Games in Shenzhen, the world Garden Expo of Jingzhou. In Asia, accumulative totally,392 pcs of individual projects completed, amount to six hundred and thirty thousand square meters, moreover, our customer satisfied with our design and construction .Based on high quality service , we win new order from old customers continuously.We have an independent membrane manufacturing base and purchased the most advanced cutting equipment of PTFE and ETFE, capable of cutting three hundred thousand square meter membrane material per year. We commanded the technology of design and construction of ETFE air pillow membrane structure, Heteromorphic ETFE pillow shaped membrane structure, ETFE monolayer membrane structure, ETFE multilayer structure, and large span gas membrane structures.
Senmo stands in the frontier of the international membrane structure design and construction.Senmo has a big skilled engineers team for design ,construction ,planning .They have good experience of big span membrane structure with Chinese traditional culture ,have a creative design style ,combined with foreign culture and Chinese culture. They can design different sculpt membrane for different function, environment, culture and style to meet customer's requirement and art requirement. Chief Engineer certificated for Class A national structural engineer, Project GM certificated for Class A national architect, what's more, Class B national architect 8 persons, other certificated engineer over 22 persons. All staff over 150 persons, Herein, over 50 persons in the office ,30 persons in the membrane cutting factory , over 20 persons in the branch,the others are on –site management engineers.
Factory Introduction
Senmo own a membrane cutting base over six thousand square meter with advanced cutting equipment for PTFE and ETFE.,annual processing capacity of 50 million square meters.All staff passed the certification of job training. Our company has high precision of steel structure production personnel and equipment,but also has good film processing technology,the professional technicians certificates to ensure that the project quality has reached an excellent level.
The Spirit of Enterprise
1. Customer first、 Staff second 、 Stockholder third
2. Clear goal 、Decisive act 、Courage to innnovation
3. Plan to clear、 Focus on cooperation 、Guarantee the quality
4. No Fraud 、Strict construction、 Ensure duration
5.No deceit 、Hold promise、 Stick to credit
6.Team one、 Help iwth each othe、r No individual
7.Strong resonsibility、 Desire to advance、 Strict to oneself
8.Honest person 、Good behavior、 god rewars hard work
Organization Structure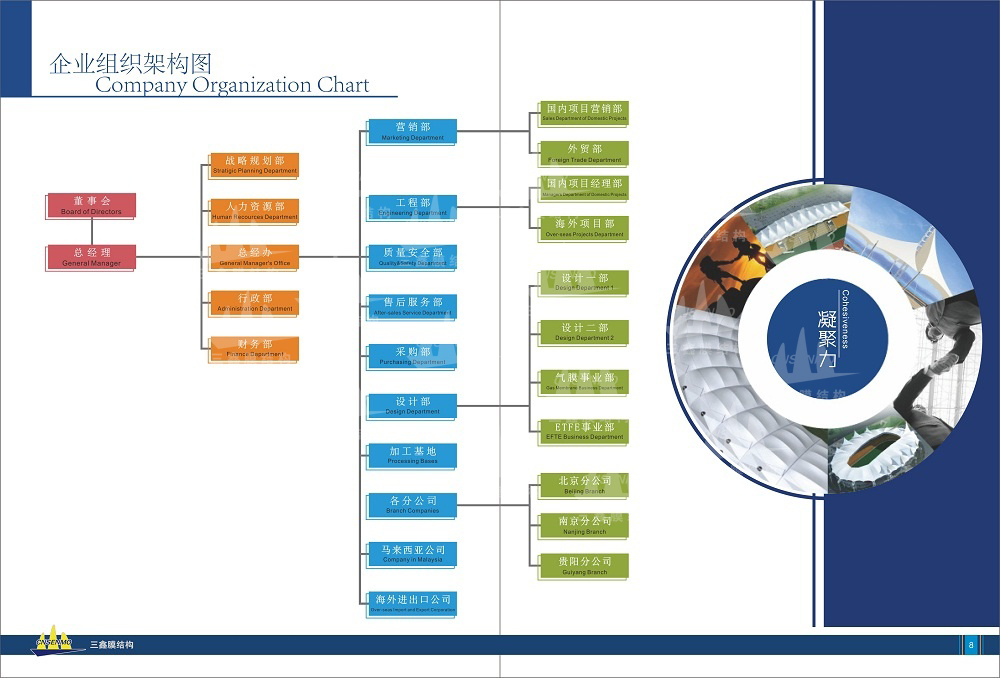 Our Mission
Pilot the newest technology to create more integration of Chinese and Western cultural characteristics of modern cable -membrane structural engineering.
Our Commitment
High quality, competent price, honest operation, continuous innovation.
Our Advantage
High quality, competent price, honest operation, continuous innovation.
Has completed more than 1200 membrane structure projects in total.

Has completed the membrane structure of the project area of more than 2 million square meters.

Membrane structure design qualification level 1, and membrane structure construction qualification level 1.

Steel structure construction qualification level 2, and steel structure design qualification Grade B.

Through the certification of ISO9001 quality management system.

More than 10 years experience in membrane structure design and construction at home and abroad.
Enterprise honor
Honor more, Full Qualification
INTELLECTUAL PROPERTY
INTELLECTUAL PROPERTY